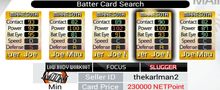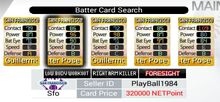 Everybody Knows Mike Trout, McCutchen, Puig, Kershaw, and all the other stars, but do you know who Chris Davis is? How about Joe Mauer. Unless you are fans of their team, you probably don't know how well they preform. I have a great team. I've got a full plat. Team and I've beaten the special mode teams more than once. I don't have a trout, kershaw, Posey, or Cabrera, but my team is about as good as a team with them. I'll give you some examples of some good cards for cheap because they are unknown.
Joe Mauer- A great defensive player. Always in the B-S range in it. High contact (89-107 base) and good power (88-98 base) with exceptional bat eye (93-105 base). A good plat. For him goes for only about 175000 to 30000. When compared to an insanly overpriced Posey card that starts at 450000 that's decent.
Billy Butler- Power House. I've hit back to back 40+ homeruns seasons with a 75000 plat. card. His defence is good (B-S) but he is very slow (E-D). The thing is your going to fund yourself joggin around the bases more times than your going to have to beat the pitch if you power swing. His power ranges from 90-101 though if you have a cheerleader card that can easily get a major boost. Contact is about 85-88 base and eye is about the same. Nevertheless he is still a great bargin card with a heavy hit or fastball killer attribute.
Melky Carbrera- You all know Miggy, but how about Melky? Great power (95-102 base) good defence (B-S) and he isn't too slow (C-B). Good contact and eye (86-90 base) and he isn't too bad points wise. 
Chris Davis- Chris "Crush" Davis...what a guy. 54 home run season in 13' so his monster card has insane power. His defence is in the B and A and his speed is a C usually. Power is insane as you can imagine and his contact is good. His eye isn't the best but I'm pretty sure you won't get too deep in the count if you can power hit. 
B. Chen- My first perfect game. A good fully upgraded Chen will have about 94 speed and 98 control with 88 endurance. Now I know you guys are all power hungry with stuff but trust me. If you get a bad pitch and it gets smashed and then you get smashed again. That endurance is going to help a lot. A-S speed follows and averages about 92-95 on the gun which is very respectable. Good range of pitches too. 
Those are a few cards too help you get a nice lineup for the time being. There are a lot more cards I didn't cover (Gordon, Francour, Bourn, Ect.) But you can always look up "unknown mlb players" and find some good cards. Till then, happy playing!!!
ID:E.Salas